Canada By Canoe

---
This site has moved. It can be found on the national platform CanExploreWhat remains below is last years website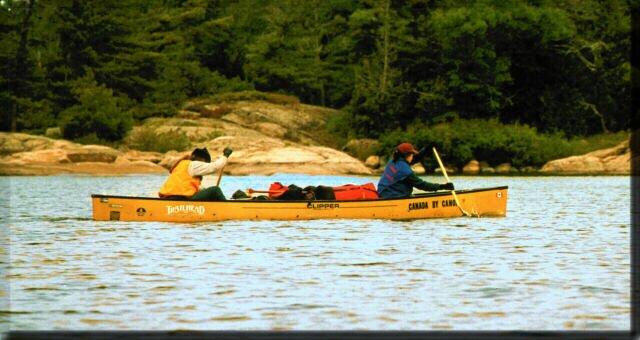 The Journey
Canoe By Canada is a Sea-to-Sea Journey from Lachine, Quebec through the very heart of the country, ending at Tuktoyuktuk, Northwest Territories. The route follows the historic Alexander Mackenzie Voyageur route from Montreal to the Arctic Ocean.
The Adventurers
| | |
| --- | --- |
| | The journey was conceived by Erin McKnight a 23 year old Mississauga resident. Erin's first taste of wilderness was at an Ontario summer camp when she was seven years old. After spending several summers at camp she participated in the Bark Lake Leadership Program and an Outward Bound course. |
After graduating from college she spent two years studying Biology in Victoria B.C. where she also learned to whitewater kayak. In 1996 Erin decided to pursue a career in outdoor education and participated in a four month skill intensive Canadian Outdoor Leadership program on Northern Vancouver Island. After a fifty day teaching practicum she went on to work at Strathcona Park Lodge outdoor education Centre on Vancouver Island and Kandalore Outdoor Center in Ontario teaching youth outdoor skills. Erin has paddled several rivers in Ontario, B.C. and the Natla and Keele rivers in the N.W.T. She currently lives in Mississauga, and works at Mountain Equipment Co-op.
| | |
| --- | --- |
| | Marie Roberts joined Erin on the first leg of the journey in 1998. They paddled from Lachine, Quebec to Marathon Ontario. Unfortunately, Marie was forced to leave the expedition when a personal emergency arose. |
This May, Alison Pick, a high-school friend of Erin's will join the expedition where it left off at Thunder Bay. Alison recently completed a psychology degree, and is interested in pursing a career in the field of mental health. She currently works at the Rathby House, a peer support counselling service on the University of Guelph campus in Ontario.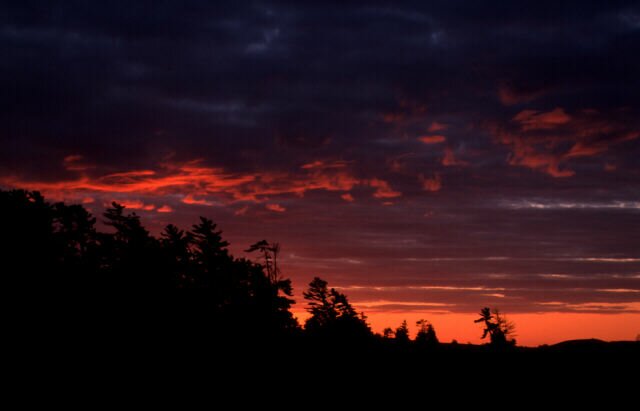 The Cause
The major objective of this cross Canada odyssey is to raise awareness of mental health. According to the Canadian Mental Health Association one in four Canadians suffer from serious depression at some point in their lives. Erin chose this cause because her mother was manic depressive (bi-polar) and took her own life when Erin was eight years old. "At the time of my mother's death, mental illness was not as well understood as it is today, but stigma and ignorance remain the two greatest barriers that prevent people from receiving help. It is our goal to increase people's knowledge about mental illness and erase the stigma that still surrounds them", says Erin.
Route Map and Itinerary
On April 25, 1998 Marie Roberts and Erin McKnight began their 9.000km paddle across Canada from Lachine, Quebec near the mouth of the St. Lawrence River. The first seasons paddle lasted three months, and they covered 3,000km reaching Thunder Bay on Lake Superior.
Unfortunately, Marie had to leave the expedition at Marathon and Erin pushed on the last twenty days alone. This phase of the journey was along the remote, rugged coast of Lake Superior. Here Erin suffered a broken foot, and was windbound for several days.

This year the trip will pick up at Thunder Bay on May 18. Erin and Alison will quickly reach the longest portage of the trip; the 14km Grand Portage. They will then paddle the boundary waters between Ontario and Minnesota. From there they will voyage north-west into the Lake-Of-The- Woods, through Lake Winnipeg and arrive in The Pas, Manitoba sometime in mid-July.

They will then fly to Fort Chipewyan on Lake Athabasca and paddle for two more months in a south-east direction (so they will not have to fight the current) through Wollaston Lake, Reindeer Lake, and numerous rivers and tributaries, arriving back in The Pas in mid-September.

Finally, in the summer of 2000 they will complete the journey to the town of Tuktoyaktuk on the shores of the Beaufort sea, in all a journey of 9000km
What's New
Friday August, 13
Erin and Alison left for Thunder Bay on Saturday, May 8. High winds and a rigourous press schedule delayed their departure for two days, until Saturday May 15. Their first live satellite transmission live was Wednesday May 12. Taken en route, and around Thunder Bay, only the picture of food barrels was received before weather interfered with the remaining transmission.
There was a brutal 14km portage in the first days of the trip. It is during this initial two weeks that the body must become accustomed to the demands of the wilderness. Foul weather has accompanied them for a large portion of the trip.
There have been persistent problems with the satellite transmissions. Early on in May and June the transmissions were knocked out by technical problems in Toronto. Foul weather damaged some of the equipment in July that has terminated transmissions since then.
The last verbal report of their position came in a week ago from Thompson River.
The received transmissions can be accessed on the satellite page.
Sponsors
This trip has been made possible by the generous help of the sponsors listed below. More continue to join. If your company would like to participate in this endeavour please contact us.
Royal Bank
Canadian Airlines
Canpar
Ignat Kaneff Charitable Foundation
Rotary
Shoreacres Holding Limited
Tara Natural Foods
Appleby College
Authentic Fitness of Canada Inc.
Camera Kingston
Dagger
Farwest
Glen Schnarr and Associates
Pina Grella
Inlogic
Intersat
McCarney Greenwood
Mountain Equipment Co-op
Ontario Explorer
Pentland Canada Inc.
Rankins' Automotive and Marine
Schaeffer and Associates Ltd.
Robert Simon
Skira and Associates Limited
Snug Harbout Seafood Bar and Grill
Paul Szabo- MP Mississauga South
The Bug Shirt CO.
Trailhead
Valemont Group Ltd.
Vicotrinox - Switzerland
Western Canoeing and Kayaking
Contact Us
You can directly email us by
clicking here
---