Region 3: LakeLands, District Muskoka Lakes

The thumbnails show the location of the region within the province. Clicking on it raises you to the level shown.
---
Overview
If there is a quintessential cottage country this must be it. Celebrated in painting, song and memory the Muskoka Lakes District is the gateway to Shield country. The terrain is one of rocky rolling ridges. Lakes form with abandon in the crevices and depressions in the rock. The rocky base of this landscape is apparent on the map from the abrupt collection of lakes following the line of the landscape.
The coastline of Georgian Bay shatters into the pebbles called the Thirty Thousand Islands that dot the shoreline. Kayakers and canoeists can take a week or more paddling up through the maze of Islands. Numerous parks throughout the District offer plenty of outdoor options on land or on water.
The architectural landscape spans from the city scape of Barrie, to the old town streets of Parry Sound, to the majestic grand hotels throughout the Muskokas. From simple shanty to palatial estates on the waters edge a history of often-photographed and celebrated human presence unfolds.
From the entrance in Georgian Bay the Trent-Severn Waterway can be explored inland through a series of locks that can take you as far as Peterborough and beyond.
Map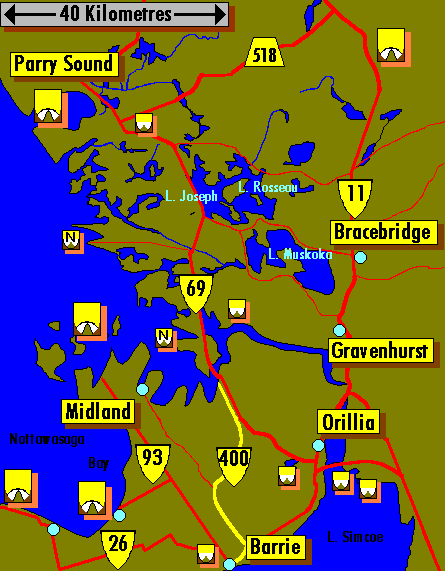 Towns and Cities
Bracebridge
Town of 10,000 first settled in 1860. Probably derives name from novel Bracebridge Hall
Gravenhurst
Also, likely to have derived its name from the novel mentioned above. This town is slightly smaller than Bracebridge, but has contributed greatly to Canadian History as the birthplace of the famed Norman Bethune. Like many towns in this area logging was once an important industry, but tourism has largely replaced it. The nickname of the town is Gateway to the Muskoka Lakes, and is home to the restore paddle wheeler Segwun.
Midland
One of the first European settlements west of the St. Lawrence Valley, theis town dates from 1639. The town is rich in both human and natural history. Of special note is St. Marie Among the Hurons a reconstruction of the original settlement.
Orillia
Spanish for riverbank the town straddles the narrows of Lake Simcoe and Lake Couchiching. As with so many other towns, its tourism industry and grown to replace to forestry industry that originally formed the foundation of the community.
Parry Sound
Named after Sir William Edward Parry the town is the centre of the Thirty Thousand Islands. Nearby Killbear Provincial Park provides a scenic getaway. The town has at least one famous son, being the birthplace of Bobby Orr, hockey legend.
SITE INDEX: [MAIN MENU] [MAP INDEX] [American Visitors] [World Wide Visitors] [Canadian Visitors] [Help]
© M. Colautti 1998, 1999, 2000>
Visit the new national site CanExplore
---