Region 4: Metropolitan Toronto

The thumbnails show the location of the region within the province. Clicking on it raises you to the level shown.
---
Overview
One of the most densely populated areas of Canada, borders on some of the most scenic. Canada's largest city exists as a separate tourist region in its own right. The city itself has a population of three-quarters of a million people. The metropolitan area around it brings the total up to 3.5 million.
A distinction is made between Toronto and the Greater Toronto Area (GTA). Metropolitan Toronto consists of the City of Toronto proper, the borough of East York and the four surrounding cities of Etobicoke, North York, York and Scarborough. The GTA encompasses an area slightly beyond the borders of the map below.
Toronto was settled by Europeans in the early 1700's. The name translates from Huron as "Place of Meeting". When settled by the British the community was named York. The city was renamed to Toronto in the 1830's. Historic Fort York which saw action during the War of 1812 retains its orignal name.
The city is most recognized for the imposing structure of the CN Tower which can be seen from 100 kilometres away on a good day. A veritable Eiffel Tower, it is as symbolic of this city as the latter is to Paris.
Map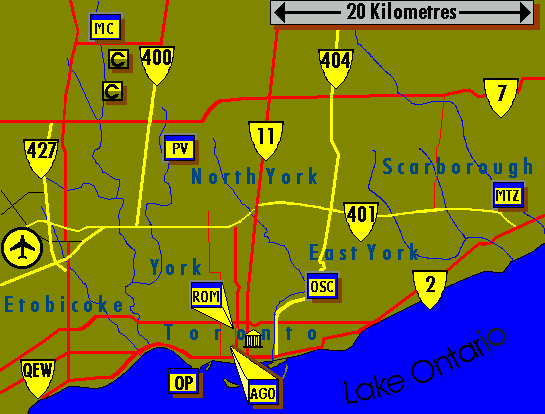 Things to Do
Art Gallery of Ontario
Opened at the turn of the century the gallery contains over ten thousand works. Over half the collection are the work of Canadian artists, while many of the others are from such artists as Rembrandt, Renior, Picasso and Rodin.
Black Creek Pioneer Village
A restored 19th century Victorian town. There are over thirty-five restored buildings with staff in appropriate costumes. An interactive, hands on approach to history.
McMichael Canadian Art Collection
An exclusively Canadian collection, it houses one of the largest displays of the works of the Group of Seven. A large collection of First Nations and Inuit art is also featured.
Ontario Place
A complex of leisure and entertainment parkland. There are probably three structures that symbolize Toronto internationally, the CN Tower, the unique city hall and the geodesic domes of Ontario Place. Opened in 1971 the complex boasts marinas, restaurants, a destroyer, and IMAX cinema.
Ontario Science Centre
Opened in 1969 as part of projects surrounding Canada's Centennial. Just over a million visitors a year take in the multitude of exhibits and shows offered at the centre.
Royal Ontario Museum
One of largest museums in North America, the gallery was opened in 1914. There are ten science departments, and nine art and archaeology departments. The Chinese collections are world famous, and many other items in the museum are internationally known.
SITE INDEX: [MAIN MENU] [MAP INDEX] [American Visitors] [World Wide Visitors] [Canadian Visitors] [Help]
© M. Colautti 1998, 1999, 2000>
Visit the new national site CanExplore
---