Waruwanago Boat Charters
---
PROPRIETOR
Jeff Omstead
PHONE
(519) 562-6512
ADDRESS
RR #1
FAX
CITY/TOWN
Wheatley, Ontario
E-MAIL
waruwana@pathcom.com
POSTAL CODE
NOP 2P0
Waruwanago has been providing diving charters in the waters of Pelee Passage for over five years. To ensure your safety, sastification and enjoyment, all of the boats are captained by an Instructor or Divemaster who are very familiar with all the dive sites. All crew members love to dive, so if you need a guide or buddy they are more than happy to help. We are extending our services to include Dock/Beach side picnics, Treasure hunts, post-dive lunches on Pelee Island, and sunset cruises along the beautiful shoreline of Point Pelee National Park.
Our Boats
Waruwanago (Where-u-wana-go) boat charters has three different dive boats to cater to individual divers and club events. All boats have LORAN-C, VHF radios, cell phones, oxygen and first aid kits.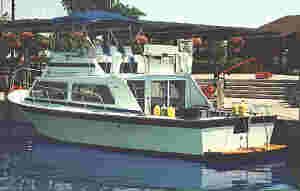 32ft Luhrs
Our 32ft Luhrs has all the amenities needed, with a big swim platform, head, heated cabin, with plenty of room for the sun lovers. Can accomodate 10 divers.
27ft Harbour Craft
The 27ft Harbour Craft comes complete with a cuddy cabin and a head. Can accomodate 6 divers.
75ft Tug
Our 75ft tug is perfect for those large groups. Completely enclosed to porvide protection from the elements. Can accomodate 20 divers. Available for the months of July and August only.
The Environment
The George Stone is a 283ft wooden freighter that sank on Grubbs Reef on October 13, 1909. It has a triple compound steam engine with huge propellers. An exciting fun dive for any level of diving. Depth 37ft.
The Clarion is a 254ft freighter that sank on December 8 1909. It has a composite construction, with the wooden upper deck burned in the fire before it sank. The wreck is intact. Depth 65ft.
The Specular is a 278ft vessel that sank on August 27, 1900. On display are two huge boilers, a three cylinder steam engine, stock anchor, clam anchor and cargo of high grade specular iron ore.
The Willis is a 131ft, three masted schooner that sank on November 11, 1872. The bow sprit, capstan, windlass, steering gear and numerous deadeyes are still preserved on this treasure. Depth 70ft.
The Tasmania is a wooden schooner that foundered on October 20, 1905. The most impressive sight is of the two enormous wooden stock bow anchors. Depth 40ft.
Instruction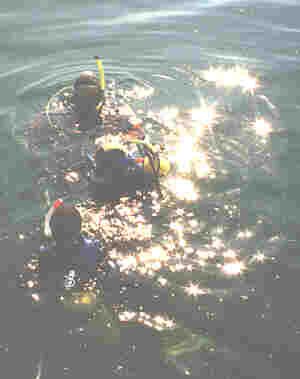 PADI open water instructor on staff. Private classes, referrals accepted.
Basic Open Water Certifications
Refresher Courses
Specialty Courses

Advanced Diver
Deep Diver
Dry Suit training
Peak-Performance Buoyancy
Dan Oxygen Provider
Rescue Diver
Divemaster






Schedule

8:00am to 12:00 noon
1:00pm to 5:00pm
7:00pm to 11:00pm






Rates

Two tank trip...$50
Three tank trip...$75 (lunch included

NOTE: Divers are responsible for all equipment, including tanks and weights. Tanks, refills, and equipment rental can be arranged. Nitrox and air available.






Finding Us

We are closest to Leamington. This town has been catering to boaters, bird watchers, naturalists and tourists for years. It has every amenity you could ask for. There are camp grounds, B&B's, fine dining, clean beaches and lots of activities for families. Nearby Windsor has lots of after hours entertainment. If you are driving, the approximate times to reach us by car are:

1 hr. from Detroit
1.5 hr. from London
2 hr. from Sarnia
3.5 hr. from Toronto












---

designed and maintained by