Geographical Information Systems
Diving is by its very nature geographic; they are called dive SITES for a reason. It is most likely that you are interested in diving in a specific place. Ontario is far too large to dive more than a few locations in a single trip. The search engine will lead you through Ontario in a narrowing search that provides you full information about the zone you are visiting
The purpose of this engine is to allow you to plan your diving activity by site. Since a GIS is map based, it is important that you can support graphics on your browser. We have endeavoured to keep the maps simple and compact to avoid long delays in transmission, and no image appears that is not essential to the search. The end result is a suprisingly fast graphical search (our maps are carefully made and average 5-10 Kb each).
If you are familiar with Ontario, you can use this site with the graphics turned off and navigate with the menus if you prefer.
Web Site Layout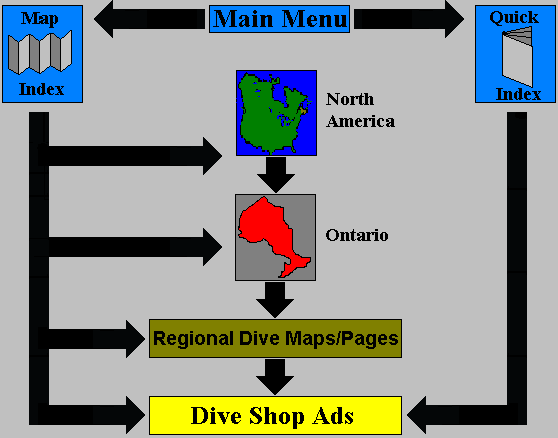 Map Search
This search engine provides a series of maps in descending order. The highest-order maps begin with a view of North America. From there you can proceed to Ontario, which is further subdivided into twelve tourist regions. Within each region individual dive sites and shops will appear. Within each sub-region the search ends in individual dive sites, shops and towns. You are not forced to navigate through every map level. At any point you can skip levels and zoom in to regions of specific interest.
Map Index
The Map Index allows you to to proceed directly to any map within the site from a master table of contents, rather than clicking through numerous pages. The maps are nested. Within each region there may be several maps, which may in turn contain several maps. Then index lists them by indenting maps that are contained within a higher one:
The example below shows that REGION 1 contains two maps: SITE 1 and SITE 2. The map of SITE 2 contains two maps: North Island and Main Land. The North Island map contains three sub-maps. Each item on the list is separately clickable and will bring you to that specific map and document
Region1
Site1
Site2

North Island

Marina
Shallow Cove
Campground

Main Land
Quick Index
This is essentially a site phone book. What it allows you to do is quickly find the name, address, and phone number of any advertiser on the site. From there you can quickly link to the associated advertisement, and map. This allows you to look up information about a shop you know by name, and wish to work backwards from. Or if you wish to contact numerous shops quickly.
Map Icons and features
Legend

Conservation Area
Provincial Park
Shipwreck Marker
Hospital
Ontario Provincial Police Station
Dive Shop
Dive Shop with NITROX
Further Symbols are also used, and may be sensitive

Float and Flag: Marks the presence of a dive site, not necessarily a shipwreck.
Anchor: Shows a public use Marina.
Large Dive Flag: Shows several diveshops not individual resolvable at this scale.
Dive Flag: Sensitive flag that is clickable, indicating a dive shop homepage.
Dive Flag: Non-sensitive, shows a shop that has no advertisement.
Alpha Flag: Marks a charter service unaffiliated with a dive shop.
Tank Marks an air station
Features versus Icons
In some cases you will find sensitive icons on top of sensitive features.--such as a dive flag icon on top of a sensitive town or region. In general clicking on the sensitive region will bring you to a closeup of that region, and the dive flag will still appear. Clicking on the sensitive icon will pull you in quite closer, often directly to the dive shop add (if it is a single-shop icon), or to a closer map that will allow you to discriminate the single icon into several smaller ones.
Also, the following features are sensitive:
Water bodies: Provide details about the environment of the particular lake or river.
Boxed Zones: Specific map of enclosed area.
Shaded Zones: As above.
How Can I tell if features are sensitized?
Images or maps that have black borders are not clickable. A blue border indicates a sensitve image that may have internal sensitive zones.
Since many of the maps are around water, the colour YELLOW is also used to designate sensitive areas. Also a combination of yellow and blue.
Within an image if the mouse pointer turns into a hand, it is a sensitive spot. Also, read the status bar on your browser. It will show the file name the link will take you to. If you slide across two joining sensitive features, you will see the target name change, and the pointer may flicker between a hand and an arrow, indicating a border was hit.