Lake Ontario
---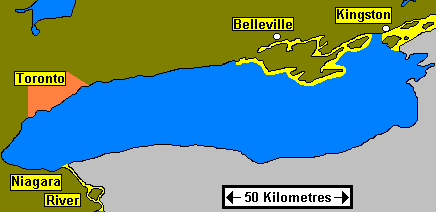 Lake Ontario's shoreline provides a wealth of dive shops and dive sites from the tumultuous waters of the Niagara River to the mouth of the St. Lawrence river at Kingston. The diving is generally scattered along the North shore, with several concentrated pockets in the Belleville and Kingston regions.
From Kingston eastward the diving continues in the St. Lawrence river with many challenging wreck dives.
The 401 highway is the high speed backbone of the north shore, allowing access to any point along the lake shore in 2-6 hours, depending on traffic. The scenery moves from wild and untamed to metropolitan splendour.
More than eight Provincial and National parks grace the shore. Camp grounds and hotels abound.
The lake is the eastmost of the five, and has the smallest surface area. It is primarily fed by the discharge of the other four lakes over Niagara falls. This Lake in turn discharges through the St. Lawrence river system. The Lake has the distinction of having the only sunken war of 1812 warships in her waters. The Hamilton and Scourge and their crews lie in deep waters off of Hamilton.
SITE INDEX: [MAIN MENU] [MAP INDEX] [QUICK INDEX] [American Visitors] [World Wide Visitors] [Canadian Visitors] [Help]
© M. Colautti 1996-1999, 2000>
Visit the new national site CanExplore
---
ontario scuba diving lake ontario ontario scuba diving lake ontario ontario scuba diving lake ontario ontario scuba diving lake ontario ontario scuba diving lake ontario ontario scuba diving lake ontario ontario scuba diving lake ontario