Fathom Five National Marine Park
---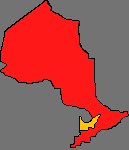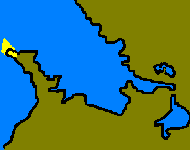 Fathom Five National Park is currently Ontario's only underwater park. If Killarney park is known as the Crown Jewel of Ontario parks, Fathom Five must certainly be the crown jewel-underwater.
Perched on the spine of the Niagara Escarpment as it plunges below the lake to surface again on the shores of Manitoulin Island, this is a region of stunning beauty above and below the waterline.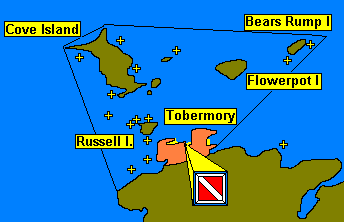 The entire Peninsula offers diving, but the tip has a concentration of wrecks and general dive sites, plus all the support services to make diving easy.
At the end of the sole highway that leads to the Peninsula, a fleet of charter boats waits to indulge your every exploratory wish. Or, if you wish to continue you journey over the horizon, board the ferry to Manitoulin Island to dive Georgian Bays northeastern shore.
These waters proved as treacherous as they are dangerous. The list below chronicles the diveable wrecks within the park boundaries. There are many more beyond.
Shipwrecks within Fathom Five Park
| | | | | |
| --- | --- | --- | --- | --- |
| Wreck | Year Built | Length (ft.) | Depth (ft.) | Special Feature |
| Arabia | 1853 | 131 | 120 | Very deep |
| Avalon Voyageur II | 1946 | 135 | 15 | Engine |
| Alice G. | <1927 | 67 | 20 | Shore |
| Bob Foote | <1905 | 60 | 20-25 | Shore |
| Charles Minch | 1867 | 154 | 25-50 | incline |
| City of Grand Rapids | 1879 | 122 | 10 | Mechanism |
| Forest City | 1870 | 216 | 60-150 | Very Deep! |
| James King | 1867 | 175 | 20-95 | Steep incline |
| John & Alex | 1924 | 59 | 20 | Shore |
| John Walters | 1852 | 108 | 5 | Fish |
| Lady Dufferin | 1886 | 135 | 40-100 | scattered |
| Marion Breck | 1840 | 127 | 75 | broken up |
| Newaygo | 1890 | 196 | 15-25 | Keel |
| Philo Scoville | 1863 | 139 | 55-95 | Bow |
| Robert K. | 1917 | 68 | 10-15 | Shore |
| Sweepstakes | 1867 | 120 | 20 | Picture Perfect |
| Wetmore | 1870 | 214 | 25 | Boilers |
SITE INDEX: [MAIN MENU] [MAP INDEX] [QUICK INDEX] [American Visitors] [World Wide Visitors] [Canadian Visitors] [Help]
© M. Colautti 1996-1999, 2000>
Visit the new national site CanExplore
---
Ontario Scuba Diving fathom five park Ontario Scuba Diving fathom five park Ontario Scuba Diving fathom five park Ontario Scuba Diving fathom five park Ontario Scuba Diving fathom five park Ontario Scuba Diving fathom five park Ontario Scuba Diving fathom five park