Ontario Parks Regions
---
The Province is divided up into twelve tourist regions by the Ministry of Tourism. If you visit any tourism office in Ontario the brochures will be divided along these lines These regions GENERALLY agree with locations of concentrated scuba diving, but not always. To cover this disagreement, the regional maps presented here are extended beyond their normal boundaries, and so will overlap to some extent.
Page Menu: [Text List][Overview]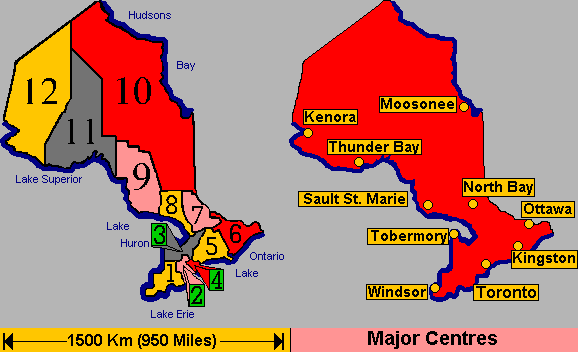 Active Regions
Overview
The maps of the Great Lake concentrate on specific shorelines to help you isolate diving by water body. They also provide more generalized information on the specific lake. However, the lakes are gigantic, so dive planning is probably best decided from regional maps, not by lakes.
Regions one through six occupy the most populated section of Ontario, and have the greatest concentration of dive sites as well. Regions seven through nine are generally less populated, with urban centres getting smaller and farther in between.
Regions ten through twelve are getting remote and are not usual dive destinations for inhabitants of Southern Ontario. From the Upper Peninsula of Michigan these areas can be accessed in a few hours driving. Coming from southern Ontario these areas are several days driving away.
SITE INDEX: [MAIN MENU] [MAP INDEX] [American Visitors] [World Wide Visitors] [Canadian Visitors] [Help]
© M. Colautti 1996-1999, 2000>
Visit the new national site CanExplore
---
ontario scuba diving ontario regional map ontario scuba diving ontario regional map ontario scuba diving ontario regional map ontario scuba diving ontario regional map ontario scuba diving ontario regional map ontario scuba diving ontario regional map ontario scuba diving ontario regional map